Top 20 Biggest EDM Hits of 2010s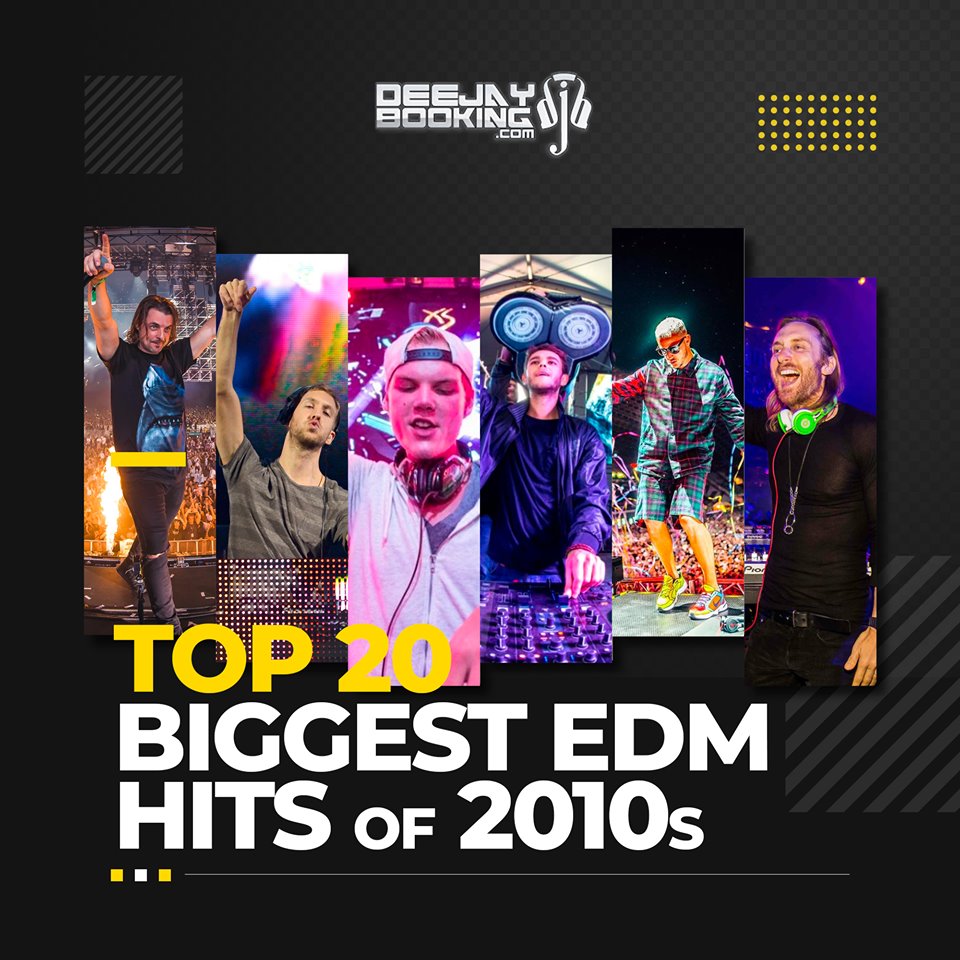 1
2010s is a blossoming decade of EDM genre, so-called Electronic Dance Music. It's not like EDM has not ever existed until now; the evolution of the genre dated back 40 years ago, but not until this decade did it truly gain commercial momentum. Some could arguably call it the Golden Age of this treble-soaked, bass-shaking movement, for its massive success to the mainstream audiences. This ongoing and ever-growing musical trend is a decade-defining moment, a page-changer of music in 2010s. It changed but at the same integrated with pop music very well: DJs have yearned their recognition as "pop artist" instead of being the behind-the-scene men, and pop artists such as Britney Spears, Lady Gaga, Taylor Swift, Justin Bieber, etc have taken a lot of EDM influences to their body of works, from 2011 Britney Spears' dubstep-filled Hold It Against Me to the recent massive trap hit 7 Rings by Ariana Grande . Very few genres have been able to change and evolve so quickly like EDM; within 10 years, dozens of EDM subgenres have been brought to the mainstream, with each of it finding a short reign, with dubstep setting the tone for the decade, followed by progressive house, deep house, tropical house, trance, hardstyle, and most recently, trap. Inevitably, this is the fastest-growing music genre. It grew so fast that in 2011 Grammy has to change the eligibility for Best Dance Recording to include true DJ recordings and exclude pop singers
A new decade has come, and EDM still finds its glory on the charts and in the festivals, and hopefully will continue to evolve as we grow. To celebrate the prominence of the genre, we decided to compile the TOP 20 BIGGEST EDMS HITS OF 2010s. We will be including club-bangers that keep us crawling on the dancefloor like maniacs from 2010 up to now. For the legitimacy of the ranking, we will include only songs that credited their producers as the main artists. So we won't see Britney Spears, Madonna, Rihanna, Justin Bieber, etc here. We will also exclude remixes, so sorry I Took A Bill In Ibiza, you are a great EDM track though. Please take note, the ranking is not TOP 20 BEST EDMS HITS; tastes are subjective and we respect that. Our criteria will be based on commercial success combining with critical success and its impact in the mainstream music. This means songs like "Scary Monsters and Nice Sprites" or "Bangarang" by Skillrex won't be joining the list, despite how influential it was, due to limited chart success and universality
20. Taki Taki – DJ Snake, Selena Gomez, Cardi B, Ozuna
This track proved that moombahton does have its charm for the mainstream audiences. It is a massively successful song worldwide with 1.6 billion views on Youtube and nearly 900 million streaming on Spotify. Ozuna and Cardi B have done the magnificent job for firing up the song with their rapping with Selena lightened it down a bit with her sensual vocal delivery
19. The Spectre – Alan Walker
This progressive house track is an explanation of why Alan Walker is so loved and known by international fans despite the lack of media exposure. Its larger-than-life production, dreamy verse, anthemic chorus, bedtime-story-like vocal delivery, etc are what you wanna hear in any festivals
18. In The Name of Love – Martin Garrix ft Bebe Rexha
This summer sensation of 2016 probably won't get away from your workout playlist or any club's setlist. There is something about Garrix' production that felt so chaotic and yet so clean.
17. Something Just Like This – The Chainsmokers ft Coldplay
Who wouldn't know the fusion between EDM and alternative rock could be this satisfying. This 1.7-billion-viewed and 1.2-billion-streamed track went on to became the 5th best-selling single in the USA of its released year.
16. More Than You Know – Axwell & Ingrosso
Two-thirds of Swedish House Mafia reunited and put out a single that sounded just like when there were three of them .This worldwide, anthemic banger is performed only once in Coachella 2015, but we still hear it every time we hit the club. And no, we are not bored of it.
15. This Is What You Came For – Calvin Harris ft Rihanna
What happened when the back-then power couple Calvin Harris and Taylor Swift made a song together? Undoubtedly a mega hit that was played 2.2 billion times on Youtube and 980 million times on Spotify. Taylor Swift's outstanding songwriting skills have once again been put into use for the first time in EDM, and Rihanna was absolutely the perfect vocalist for this track. But the highlight is still the ear-orgasmic production from Mr. Harris himself
14. Summer – Calvin Harris
Do we really need to explain why this is the summer anthem of 2014?
13. I'm An Albatraoz – AronChupa
This Swedish track hit it big in the Europe and lived long just like any of their IKEA items. Limited release in America doesn't change the fact that this is one of the most well-known, overplayed and beloved EDM bangers of all time, with 1.1 billion views on Youtube
12. Don't Let Me Down – The Chainsmokers ft Daya
This Grammy-winning song from the duo earned them critical respect. It was their first top 5 hit in the US, scoring over 1.2 billion streaming on Spotify and was viewed 1.4 billion times on Youtube. It is is a smooth combination between the aggressive trappy big room beats and the sultry vocals of the 17-year-old Daya. An EDM anthem that will never let you down as soon it drops
11. Faded – Alan Walker
No one can deny there was a time that Faded flooded the charts like a thunderstorm. It enjoyed massive global success, especially Europe where it topped most of the charts. Despite peaking at #80 in the US, the song has sold over 3 million copies and certified 3x Platinum there. Surprisingly, Faded turned out to be a way bigger sensation in Asia. It was literally everywhere! From the clubs, stores, shopping malls, café to your nearest neighborhoods. We heard so much that music in 2016 became "Faded and other songs". Well that explains why the video garnered 2.5 billion views and 18 million likes on Youtube
10. Feel So Close – Calvin Harris
After gaining momentum with We Found Love with Rihanna, Feel So Close further solidified Harris' foothold as a top DJ in the scene. Harris' vocals were minimal, but his electro-fingerprints were enough to make all of us all feel so close together. The result is a club banger that climbed to top 15 of Billboard Hot 100 selling 2.2 million copies in the US alone.
9. Martin Garrix – Animals
Would we ever get to hear In The Name of Love without Animals? Martin Garrix's age is polar opposite to his versatility. Widely regarded as the most popular Big Room House song of all time, this floor-smashing classic made Garrix the youngest DJ to reach number one on the electronic music store Beatport, later attaining worldwide success and became an overplayed smash that makes you say "No not again" but still dancing to it. The song has achieved 1.3 billion views on Youtube
8. Clarity – Zedd ft Foxes
Zedd is no stranger to the EDM mainstream scene and has spawned numerous hits under his belt, but none has surpassed the career-making hit Clarity that pierced his name on the chart like the cannonball. Clarity, at the time of its release, was a risky song that broke the tradition of ordinary progressive house by entailing tons of synth details that sound chaotic but put together a beautiful picture. Let's also not forget the beautiful vocal performance of Foxes.
7. Titanium – David Guetta ft Sia
David Guetta is no stranger to featuring a lot of mega stars in his works, including Rihanna, Florida, Akon, Nicki Minaj, etc, but who knows his signature hit is the one that blended the vocals of back-then-underdog Sia. Originally a Katy Perry-reject, Titanium shot Sia to stardom and it is undeniable that she nailed what she wrote. The empowering lyrics of self-worth fusing with Sia's sultry vocal delivery that signifies cries of sorrow, highlighted by Mr. Guetta's fast-pacing, rushing drop haave created a multi-layered banger that sets itself apart from Guetta's previous releases. The song turned out be a mega hit, especially in the UK where it is the 4th best-selling song, along with a 1-billion-viewed video
6. Closer – The Chainsmokers ft Halsey
The Chainsmokers' success has always been a controversial topic among fans and Closer is the best example that captures this love-hate relationship: some might love it to life, some might hate it do death. But it is foolish to undermine the significance of "Closer" in pop culture. This overplayed future bass hit has that catchy, campy chorus that while it doesn't stay resonant in festivals, it stays in your head. This is undeniably the duo's biggest hit, staying at #1 for 12 weeks and top 10 for 32 weeks in the US, earning 1.660 billion streaming on Spotify and over 2 billion Youtube views. Whether you hate it or not, this will forever be a classic and a song that in 10 years, you will sing along with it anyway.
5. Wake Me Up – Avicii ft Aloe Blacc
Soul and EDM are like chalk and cheese in music, but with the magic hands of the late legend Avicii, everything turns gold. This resulted in a massive critically-acclaimed and commercially-successful EDM work that will continue to resonate in festivals and dancefloors even after his passing. This flawless combination still retains the raving nature of progressive house, but at the same time, the sultry vocal delivery of Aloe Blacc has created much more depth to the song, setting it apart from other regular club-bangers. Wake Me Up managed to topped almost all of the countries it charted, including #4 in the US, where it has sold 4 million copies. The song has also been streamed nearly 950 million times on Sportify, viewed 1.8 billion times on Youtube, making it one of the most-streamed and most-viewed songs, respectively. Do you feel a bit of fire in your heart now?
4. Lean On – Major Lazer & DJ Snake
What happens if two of the most powerful EDM forces join hands? The result is probably the biggest, most ambitious crossover in the electronic music industry. Its irresistibly half speed tempo lures the crowd to unconsciously shake their hips, then shoot it straight to the chart, to become once the most streamed hit on Spotify with nearly 1.3 billion units currently, and one of very few music videos to achieve 2.6 billion views. Lean On also stormed the global charts, including #4 in America, selling 13.1 million downloads, thus becoming one of the best-selling singles of all time
3. Turn Down For What – DJ Snake , Lil Jon
Turn Down For What entered the mainstream music as a piece of blank page. It was something we did not usually listen on the radio, but it is oddly satisfying and catchy. That's how this jam popularized trap music to the world of EDM, which cracks the charts like it cracks the dancefloor. Contrary to his chillaxing, hips-moving, Macarena-esque smash hit "Lean On", DJ Snake made his career-making hit a megaphone to the chest, a spring to your feet that just makes you want to jump with your heads blown and just before the drop happens, you can't turn down "another round of shots".
2. Don't You Worry Child – Swedish House Mafia
While most artists reached the peak during their career, Swedish House Mafia made it after. The trio has put out Don't You Worry Child, the last single of their career before their split, which did not only become their most successful hit and their only song to crack American chart Billboard (#1), selling 5.5 copies worldwide, but it also became a Grammy-nominated masterpiece. By honoring the memories childhood and embracing the beauty of adolescence, Don't You Worry Child quickly became an empowering festival anthem, while making EDM fans mourn for their departure. Lucky for you, each of the trio is enjoying their reputation as an individual DJ now.
1. Levels - Avicii
Wake Me Up might be Avicii's most commercially successfully hit, but it was Levels that was his career-breakthrough that even the position #60 in Billboard Hot 100 won't alter its game-changing impact on radio and EDM world. This EDM anthem not only opened the door for progressive house to mainstream audience, but it also set the standard for the entire generation of club bangers. Its simplistic structure, catchy hooks along with the sultry vocal sample from Etta James from "Something's Got A Hold On Me" made Levels sound larger-than-life, thus becoming an overplayed sensation in electronic music festivals and parties. The song attained tremendous global success around the world, peaking at top 10 in the majority of countries it was release and still continued to chart even up until now and spawned countless samples and remixes. Avicii may have passed away, but he left for us the Smell-Like-Teen-Spirits legacy that will forever resonate as the decade-defining most influential sonic masterpiece in the music world.
Honorable mentions: Rather Be, Rockabye, Work Hard Play Hard, One Kiss, Cold Water, Let Me Love You, Roses