MAR FLORES at Pyramid Ibiza Party 2019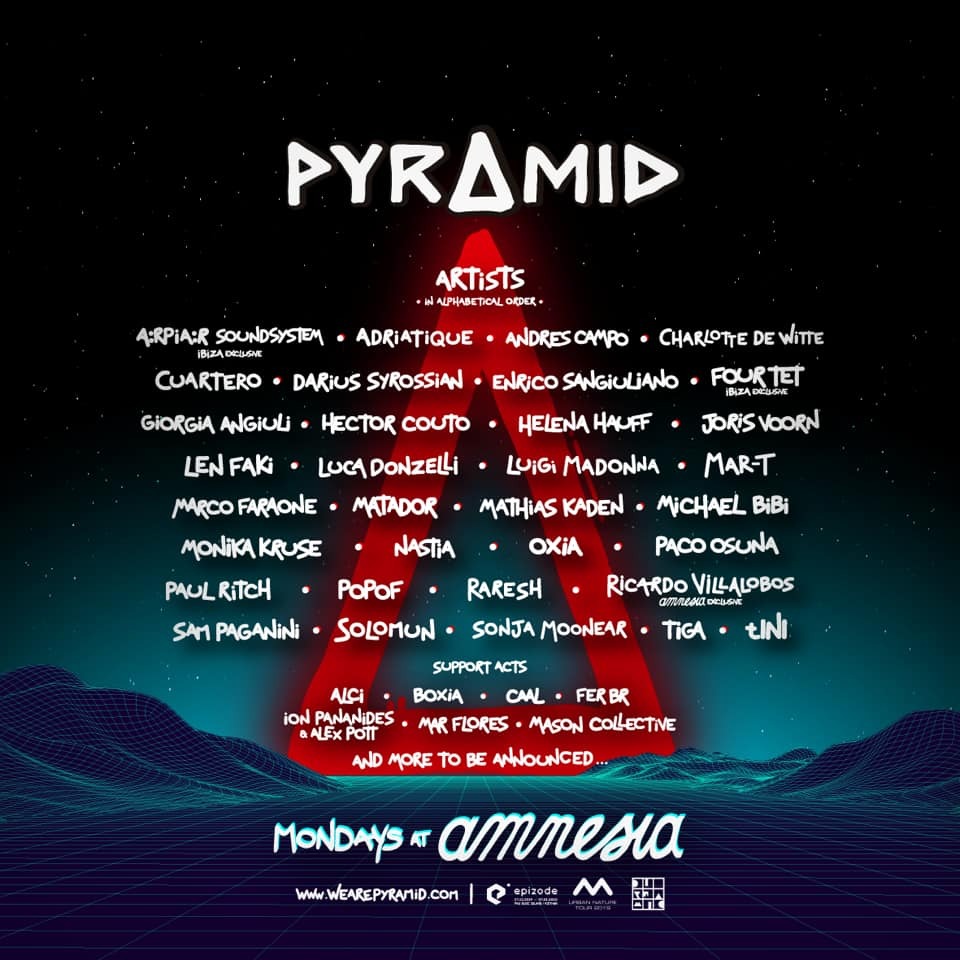 1
From Monday 3rd June to 23rd September, every other week at Amnesia Ibiza. Pyramid, the new party on Monday nights at Amnesia that week after week will bring us back to the old Ibiza vibes, where all that mattered was the music, the energy and dancing until the early hours of the morning. The 2019 season is full of more surprises and news. Some of the world's biggest and most respected names and some of the coolest up and coming artists of the moment will make us all dance, feel and live the pure essence of the island that has been so lost in recent years.
Pyramid's decoration and performances have also made Monday nights so special and different, being made up by creative and organic materials, the latest technology and lighting and mind-blowing performers. The decoration has been mostly in green tones with elements that have transported us to places of leafy forests, giant figures of animals - like horses - and pyramids, many pyramids! All of these in different colours, in different places in the room, and made from different materials (lasers, bamboo, lights on the ceiling...). Entering into Amnesia on Mondays has been like transporting ourselves to another dimension. When you really like something, you feel it and transmit it. That's something we could say about Pyramid. Since its opening and thanks to the combination of the two factors mentioned above (music & decoration) within Amnesia, an atmosphere has been created that is difficult to explain. When what you see and what you hear awakens that desire to dance and surrounds you in that unique environment that you only can live in techno events, the energy that you give off is passed on to the next one, and thus, as in a chain, all the people who have come to Pyramid week after week got that energy. A feeling which is not possible to describe with words, you must live it for yourself. Pyramid invites you to dance, feel and live a party that has been so truly missed on the island for many years from 3rd june to 23rd September in Amnesia Ibiza.
All the followers of Mar Flores, don't miss the opportunity to enjoy her music and talent. 15/07/2019 Pyramid is back at Amnesia. With an impressive line up at CLUB ROOM: LEN FAKI, CHARLOTTE DE WITTE, MATADOR and MAR FLORES.
Get your special priced tickets here! - https://tickets.amnesia.es/en/ticket/443
You can reach us at info@deejaybooking.com for any booking enquiries