Interview with Sharam Jey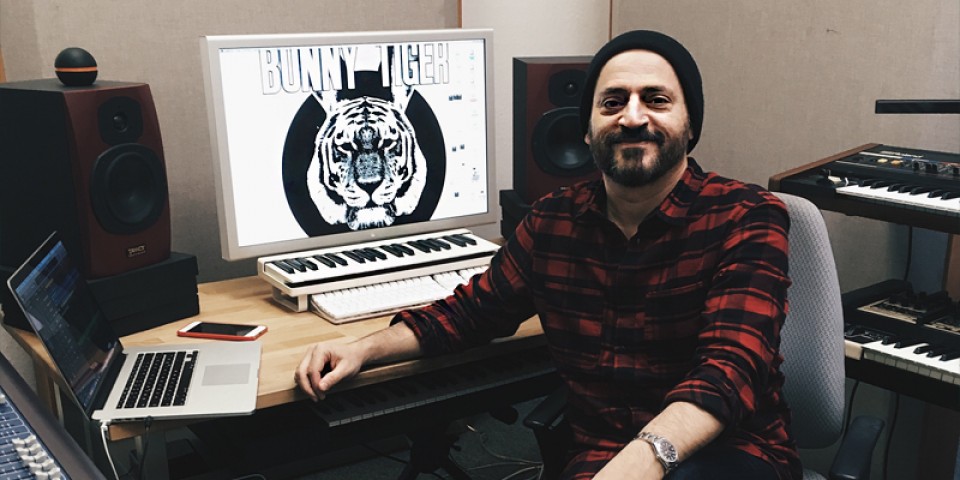 1
Sharam Jey, a German musician or Iranian origin, is a true veteran of music industry. His first release was out in 1995, more than 20 years ago. Sharam is a DJ, producer and a label maker; he is truly involved in all the stages of music production. His first label, King Kong Records, was created in 2003. The latest label, Bunny Tiger, made it to the Beatport label top 10 within a year in 2013. Currently Sharam is working on many projects, both individually and in collaboration with other artists . The biggest of them is a compilation album release "Bunny Tiger Mexico Collection" and his forth artist album, expected to be released in May 2018.
We decided to meet Sharam and ask him a few questions about his upcoming album, tours and plans for the future. Sharam just moved into his new recording studio in Cologne. Bright, quiet, with great acoustics - perfect place for creating music.
- You are releasing a Mexico Collection compilation album and going on tour to Mexico in March. How did you get an idea for a child of a project?
- When I created Bunny Tiger, it was just a label to put my own music on. The first few releases were just my own production, later I started collaborating with close friends and producers. We received so many demos from upcoming artists that we have decided to release their music on the platform, give them international support. Last year we collaborated with the upcoming Brazilian musicians and created the first compilation, Bunny Tiger Brazil Collection . But we can not do it all at once, it's impossible to release 20 tracks at the same time. That's why we decided to make a separate compilation with Mexican musicians. The collection is mixed and compiled by me and Andruss, a Mexican producer, and it is also featuring other producers with whom we had the best ones. After that, we will make the US compilation with the same concept - no big names, no people who are already involved in the scene, just new talents.
- What do you like more - travel and perform in a studio?
- I like both. In the past I preferred to be in the studio and produce, but the industry was different back then. You could just create a living out of it, but at the moment the main income comes from traveling and doing live shows. I like it, but my situation has changed since I became a father - having kids, having a family at home, it's different. If you're on your own, you can just go and travel. For the young producers and deejays it's the best thing - traveling around the world! That's what I used to do for many years. Now my son just turned five, I have been trying to combine family and job. It's all about organization. I had them with me many times on tours, my wife and my two kids were touring with me for about 2 months. They loved it! But from the next year my son is going to school, so it will not be possible to take them with me for months. I'm looking forward to go on tour, but I know that I will miss my family, so there are certain advantages and disadvantages.
- Where did you like to play the most, out of all countries? Where do you have the most active fandom?
- For the last few years it's definitely South America, Brazil ... I've been traveling for four years now Brazil became number one place. We do big shows there, shows at least two thousand people, which means big time! And I'll make 20 to 30 shows there every year, it's massive! But I love to play everywhere.
- You have been in Brazil in 2017 already, right? And you're going there again after the tour in Mexico?
- Yes! And then it starts - I'll go in April, in May, in June, and in August again there is a big tour. Also, in April I'm going to be the biggest Brazilian dance music magazine, which is cosmic! As you can see, I have big plans for this year.
- At King Kong Records you were making a lot of vinyl releases. Are you planning to come back to vinyl with Bunny Tiger?
- King Kong Records was a fully vinyl label, so for 10 years we used vinyl records. At that time it was the way of deejaying, after that came CDs, then mp3, and these modern technologies killed the vinyl. But nowadays, for the last few years, it's coming back, and I would love that with Bunny Tiger. We have the sub-label or Bunny Tiger, Bunny Tiger Dubs, it's more of a tech-house and techno music, which is totally for vinyl. We did some limited vinyl records or Bunny Tiger during the last 2 years, and I hope I'll find some time to start with vinyl again. Or course, if all the big DJs, the new upcoming DJs would also switch to that. As a label owner, I would love to print vinyl records, but as a DJ I do not play them, therefore, it's hard for me to create any promotion for vinyl.
- Your new album is coming out in May?
- Hopefully! We are planning to release it in May, but we need some time for promotion, so I will have to work hard to finish it till the end of March. I've been working on it for half a month in the studio. It's the longest that I've stayed at home during last 5 years. My last artist album came out 9 years ago, so I had the time to put this one together. I did a lot of records, but I think an artist album is something very personal. I did not want to put 10 great club tracks and release it as an album. An artist album is a representation of a musician, and you can never know if people will like it. But I'm excited about it.
- What can you reveal about your new album?
- The whole album is very atmospheric. There is only one typical disco track, other tracks are more melodic. There are some instrumental songs and some with vocals also. There is still one track for which I do not have vocals. If I do not find a perfect vocalist, maybe I will sing by myself. I have 20 tracks now and I'm going to choose 12 or them for the album. I just want to tell the story.
Check out Sharam's newest releases on his SoundCloud page.
For any bookings or inquiries, contact info@deejaybooking.com