D-Formation at ADE 2019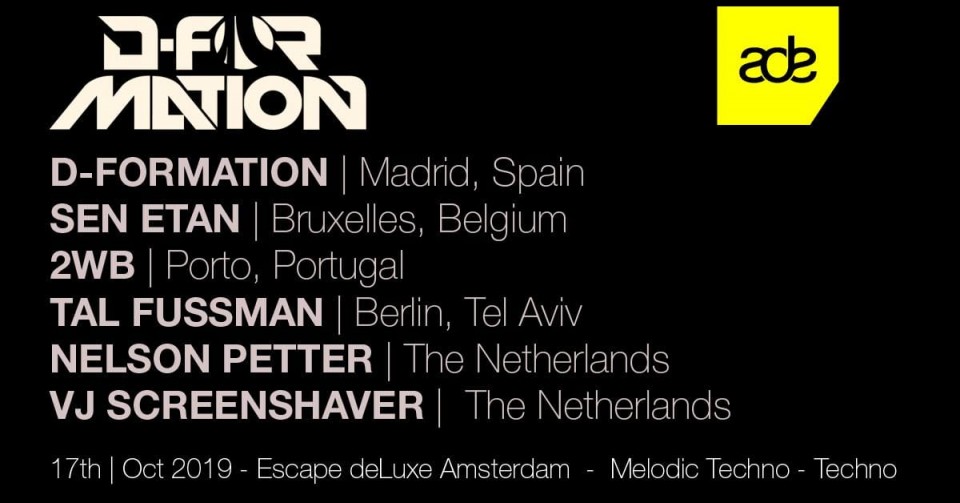 1
Amsterdam Dance Event, an electronic music lover's heaven.
This year D-Formation's party concept will focus on melodic techno and techno in general, thus bringing onto stage the best of the best which include our very own Sen Etan (Belgium) and 2WB (Portugal). Even with the top techno DJs making an appearance, fans can expect each artist to cook up something special and unique. 2WB, for instance, is one of these types of artists as the duo culminates experimental sounds from their different backgrounds and skills set within the arena of hip-hop, reggae and house.
The event will take place at Escape deLuxe Amsterdam on 17 October 2019. Coined Intergalactic Space Night, you already know its going to be out of this world with its sound and settings. ADE is playing it cool by vaguely saying that Escape deLuxe will install "strange visuals taking you to a spacy atmosphere". Simply put, this party is not for the faint-hearted; five talented techno artists will be setting an ecstatic experience, and all for a mere €15 presale and €17.50 at the door of the venue/spaceship.
For bookings or inquiries please contact info@deejaybooking.com.