CD Compilation 10 Years Ostend Beach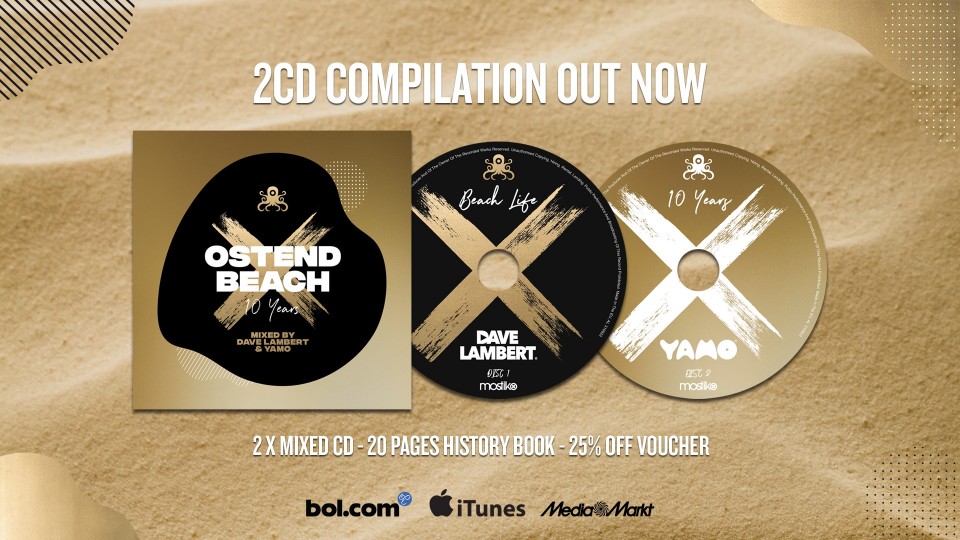 1
World's No. 1 Beach Festival is set against a beautiful coastline, with ample space and the perfect atmosphere for the season. If you're going to be in the area at that time, we definitely recommend checking it out, as the festival celebrates its 10th Anniversary in 2019! Electronic music brings the country's north coast to life, as local and international artists build up the great summer vibe at the wonderful beach of Ostend.
In celebration of the 10th anniversary, Ostend Beach released a unique compilation. Combining the biggest club anthems and sunshine sounds of the past 10 years, curated by resident dj Dave Lambert and co-founder of the festival dj Yamo. It's guaranteed to deliver the upfront house heat you need for the incoming summer. On Friday 21st June, the first day of summer, the compilation will be available on 2CD and download.

Ranging from chart-toppers to underground gems, covering soulful, tech and deep house bases, Dave and Yamo have selected all the finest tracks that house has to offer right now to get you to summer ready. Whether you're watching the sunset in Ostend, or bringing some beach vibes to your own neighborhood, Ostend Beach - 10 Years is your definitive summer soundtrack. Highlights from the compilation include KH 'Only Human', Duke Dumont 'Red Light, Green Light', Agoria 'You're Not Alone' and of course Green Velvet's 'La La Land!
Besides 2 discs, the media book offers a history photo book of 20 pages covering the festival since its launch in 2010. A 25% off code for all regular tickets for Ostend Beach Festival 2019 is included in every hard copy of the compilation as well.
Disc 1 - Beach Life
compiled & mixed by Dave Lambert
01. Jack Back - (It Happens) Sometimes (David Penn remix)
02. Duke Dumont ft Shaun Ross - Red Light Green Light
03. Dido - Give You Up (Mark Knight remix)
04. Siege - Thinking
05. Alvaro Smart - Just Like That
06. Sabb - Jeopardized (Audiojack remix)
07. Bookashade - Trespass 2019 (Mark Knight extended mix)
08. Calvin Harris - I'm Not Alone (Camelphat extended remix)
09. Emmanuel Jal - Kuar (FNX Omar remix)
10. Sllash & Doppe - Aguella
11. Axwell - Nobody Else
12. Robbie Dox - Be Myne (The Cube Guys remix)
13. KH - Only Human
14. Agoria - You're Not Alone (Solomun remix)
15. Klangkarussel - Sonnentanz (Phoniques sonnentrance remix)

Disc 2 - 10 Years Classics
compiled & mixed by YAMO
01. Julien Jabre - Swimming Places (Purple Disco Machine rework)
02. Camelphat, AU/RA - Panic Room (Camelphat club mix)
03. Purple Disco Machine - Body Funk (Claptone extended mix)
04. Joris Voorn - Genova
05. Marian Hill - Down (Franky Rizardo extended remix)
06. Nick Curly - Underground (Dennis Ferrer remix)
07. Kristine Blond - Love Shy (Sam Divine & CASSIMM extended remix)
08. Green Velvet, Patrick Topping - Voicemail
09. Claptone ft Nathan Nicolson - Abyss of Love (Franky Rizardo remix)
10. Amine Edge & Dance, Blaze - Lovelee Dae
11. Franky Rizardo - Revoke
12. Maxim Lany - Renaissance
13. Lykki Li - No Rest For The Wicked (Joris Voorn remix)

BONUS TRACK
14. Green Velvet - La La Land
BUY NOW

TICKET UPDATE Tickets for our 10 years anniversary are going fast! So hurry up and get yours now!