For Music Producers, Deejays, Artists, Promoters, Event - and Venue Managers.
EXPERTS in all fields of the MUSIC and EVENT industry are ready to MANAGE your projects.
DIGITAL MARKETING, BRANDING, MUSIC RIGHTS, DESIGN and P.R. are our key fields of expertise.
WE COLLABORATE with respected Event- and Festival Promoters, Labels, DJs, Artists, Producers, Agents and Managers.
WE ADAPT our services in line with your needs. WE ARE a 360 °Service Agency.
WE MANAGE your booking, management and communication processes.
WE ASSIST you with the promotion, marketing, design and production aspects of your projects.
WE GUARANTEE efficient administration and rapid response times.
Ain't no challenge hard enough, to keep us from trying.
FOR THE LOVE OF HOUSE!
Client References :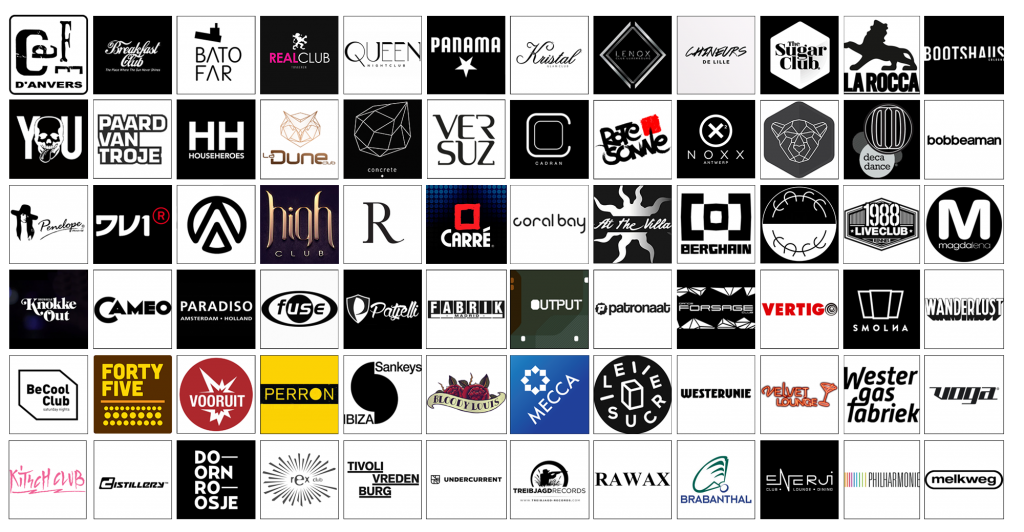 Events / Festivals:
A Day At The Park - Anarchic - Antwerp - Astropolis - Awakenings - City Parade - Dalston Music Festival - Dance Parade (NL) - Decks on the Beach (Lebanon) - Dreambeats - E-Lake Festival - Emporium Festival - Fantastic Festival - Feast in the Park (BE) - Forest Rave -Francofolies de Spa (BE) - Genk on Stage - Ibiza At The Beach - Legacy Festival - Loveland Festival (NL) - Mause Events - Mayanfest (Mexico) - Midweek Festivals - Modfest - Nisound - Nuits Fauves - At the Valrave - Ostend Beach - Paradise City - Parsidance - People of Taboo - Pukkelpop - Putrock - RAUW - Replay Festival - Retro Acid - Rock Zottegem - Sea Sessions Festival (Ireland) - Son Libre - Sonnentanz Festival - Sunfest (Sri Lanka) - Tech Lounge - Techno Parade (Fr) - TechNoMusic - The Day Before Tomorrow - Tomorrowland - Transardentes - Venuez - Vortex Festival - We Can Dance
Cooporate Events / Brands:
Bacardi - Martini - Sharp - Ernst & Young
Label Events:
Axis - Bonzai - Defected In The House - Deeperfect - Different - Finale Sessions - Peacefrog - Radikal Fear - Rawax - R&S Records - Superstition - Warp
Producers & DJs:
2Grooves, 2ManyDJs, 2WB, Abel Ramos, Acid Scout, Ade Fenton, Alan Braxe, Alton Miller, Alvaro, Aly and Fila, Ant LaRock, Ante Perry, Aphrohead, Ata Mota, Axone / X_1, Barbara Tucker, Basto, Behrouz, Ben Simms, Benedict Cartue, Black Legend Project, Blake Baxter, Bob Sinclar, Bobby Shann, Brian Cross, Bruno Sanchioni, Cajmere, Camilo Franco, Carl Craig, Carmelo Carone, Chip E, Chus & Ceballos, Cj Bolland, Claptone, Claude Young, Coder 23, Cristian Varela, Da Fresh, Dada Life, Daft Punk, Dan Curtin, Daniël Bell, Daniel Bovie, Danny Howells, Dano, Dany Rodriguez, Daria Kolosova, Darren Emerson, Dave Angel, Dave Clarke, David Morely, David Penn, David Tort, David Vendetta, Davidson Ospina, Deg, Derek Marin, Derrick May, Derrick Thompson, D-Formation, Diego Mates, Dimitri Vegas & Like Mike, Dirty Vibezs, DJ Alexia, DJ Cruse, Dj Disciple, Dj Hell, DJ Maseo, DJ Motiv8, DJ Pierre, DJ Prinz, DJ Sneak, DJ Yellow, D-Jack, DJs From Mars, D-Knox, Doctor Dru, Dosem, Dub Pistols, Dutchican Soul & Karmina Dai, Ecto Maver, Eddie Amador, Eddie Fowlkes, Ellen Alien, Etienne De Crecy, Fabdance, Fabrício Peçanha, Farley Jackmaster Funk, Fatima Hajji, Fatman Scoop, Fehrplay, Felix da Housecat, Felix Kroecher, Finnebassen, Franco Bianco, Frank Dewulf, Franky Rizardo, Front 242, Funkagenda, Gary Numan, Gene Farris, George Morel, Glow In The Dark, Grandmaster Flash, Green Velvet, Gregor Salto, Groove Mind, Guy Mantzur, Hanne Und Lore, Harrison Crump, Havard Bass, Hideyoshi, Ida Engberg, Jamaica Suk, James Zabiela, Jamie Lewis, Jay De Lys, Jay Lumen, Jeff Mills, Jesse Saunders, Joal, Joe Claussell, Joe Smooth, Joe T Vannelli, Joeski, Joey Beltram, John Dahlback, John Monkman, Jon Cutler, Jonathan Ulysses, Joost Delijser, Jose Padilla, Josh Wink, Jovonn, Juan Atkins, Julie Mcknight, Junior Jack, K.A.M.A, K-Alexi Selby, Katrien Klausing, Keith Lawsen, Kenny Dope, Kerri Chandler, Kevin Saunderson, Kid Creme, Kid Massive, Kiko Navarro, Koenie, Kolombo, Kraak & Smaak, Kurd Maverick, Lady Caro'zart, LadyDust, Laladee, Lando Riske, Laurent Garnier, Leeroy Thornhill, Lenny Fontana, Leo Annibaldi, Lifelike, Lil Louis, Little Maya, Louie Vega, Loulou Players, Luis Leon, Luke Slater, Maaike fk, Mar Flores, Marga Sol, Mark Knight, Markus Honner, Marshall Jefferson, Marusha, Massimo Girardi, Maurice Joshua, Mc Boogshe, Melchior Sultana, Mendo, Miami Rockets, Miguel Lobo, Mike Dred, Mike Dunn, Mike Steva, Milk And Sugar, Miss Djax, Mixmaster Padovano,Model 500, Moguai, Monika Kruse, Ms. Dynamite, Nastia, New World Sound, Nicola Fasano, Nicole Moudaber, Octave One, Oliver Twist, Opiuo, Orlando Voorn, Patrick Pullsinger, Paul Johnson, Paulo DEF, Peter Raw, Phil Hartnoll, Phinova & Anfisa, Phuture, Philippe Zdar, Piem, Pig & Dan, Pleasurekraft, Praga Khan, Primitive World, Ray Okpara, Re.You, Reboot, Renaat Vandepapeliere, Reteez N Burn, Robbie Rivera, Robert Abigail, Robert Hood, Robert Leiner, Robert Owens, Roger Sanchez, Rogerio Martins, Ron Trent, Ronn Aka Ron Carroll, Roy Davis Jr, Romanthony, Rui Da Silva, Rulex, Saeed Younan, Sam Divine, Sam Sparro, Sander Kleinenberg, Sandy Rivera, Santonio Echols, Scan 7, Scarlett Etienne, Screamin Rachel, Sean Aaron, Sebastien Leger, Sen Etan, Sharam, Sharam Jey, Shlomi Aber, Slam, Snoop Dogg, Sonate, Sonique, Sonja Moonear, Sonny Fodera, Speedy J, Stacey Pullen, Stacy Kidd, Stephanie D'Olieslager, Stefano Noferini, Steve Cop, Steve Forest, Superfunk, Superlounge, Svan Code , Sven Vâth, Synkro, System Of Survival, Technasia, Tell, Terri B!, The Cube Guys, The Source, Thomas Gold, Timmy Regisford, Tinie Tempah, Tobi Neumann, Todd Sines, Todd Terry, Tomasa del Real, Tristan Garner, Tsalikee, Tyree Cooper, Uberjak´d, Underher, Uner, Ungar, Uto Karem, Vanessa Kipfer, Venor, Vhyce, Victor Calderone, Virgo Four, Waka Flocka Flame, Watermat, Wolfpack, Xssya, Yamil, Yolanda Be Cool, Yves Deruyter, Yves V, Zombie Nation.
Who are WE ?